A late injury to Kyrie Irving might have been the costliest incident in last night's game 1 of the 2015 NBA finals.  Irving's as yet undisclosed injury in overtime robbed the Cavs of their dynamic point guard who turned out to be a dynamic defender, with two notable blocks on MVP Steph Curry – one at the end of regulation setting the Cavs up for an attempted game winner.
LeBron James had an incredible game, with 44 points but from the point that he hit a three to tie the game at 96 until close to the end of overtime, the Cavs went ice cold.  Tristan Thompson had an incredible 15 board performance, but only offered 2 point.  The Cavs also got good production from Mosgov, with 16 points, but James Jones 17 minutes yielded a +/- of -11 and Matthew Dellavedova didn't even attempt a shot, though he dished out three assists, for a -13 total.
The Warriors were led by 26 from Curry and 21 from Thompson, though Harrison Barnes hit some crucial shots and Andre Igoudala rolled back the years more than once for his 15 point performance, also punctuated by some solid defensive work on James.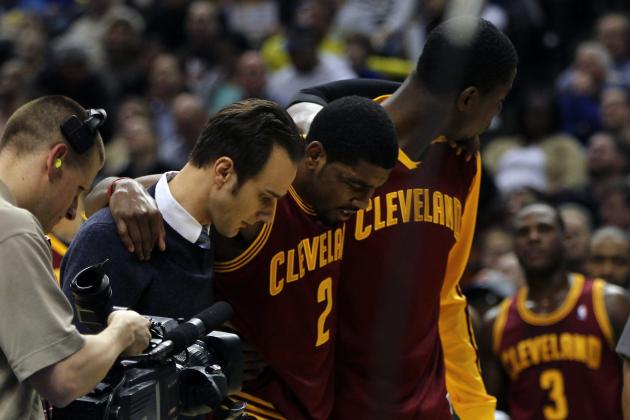 There is really only one question for game 2: Is Kyrie fit?
If Irving plays and can play to a similar level to game 1, the Cavs absolutely have a shot.  While it is true that LeBron might not quite be capable of another 44/8/6 performance, brilliance can still be expected.  If Kyrie can't go in game 2, it is tough to see a way through this series for Cleveland.  As more than one tweeter posted, in a matter of a few seconds, the game went from a 7 game classic to a possible sweep.
I'm sure all neutrals will hope that Irving is back for game 2, which will be Sunday at 8pm Eastern.
---