I've written many an article for this website over the past year and a bit that makes it very clear that I am a big fan of the greatest player in the world, LeBron James.  Part of the reason I do this is because it is very obvious to me that many, many people are not and dislike him for strange reasons.  I addressed most of these in this article from about six months ago.
Last night, TCC was in attendance at game 1 of the 2014 NBA finals to see one of the great finals controversies of our time: the San Antonio air conditioning conspiracy.  The best player in the world could not finish the game after suffering from cramps.  He is, according to some of you, let's call you "idiots", therefore "weak", "a faker", "not as good as Jordan or Kobe".
The curious thing is that these arguments, the arguments of this group that we have decided to call "idiots", seem to be very strong among people who are either involved the media and therefore have an agenda in creating controversial stories, like Skip Bayless, or are fans of other teams.  See how you are agreeing with Skip Bayless?  This is dangerous territory for you.
Perhaps the strongest justification for the use of the label "idiots" is the use of arguments that begin "I once…"  STOP RIGHT THERE.  You?  LeBron and you?  Come on man.  There is still the opportunity for salvation here.  LeBron is a six-foot-nine, two-hundred-and-sixty-pounds ball of brute force and fast twitch muscle.  You work in insurance.  Give me a break.
My major issue with LeBron haters is that they are denying themselves the opportunity to enjoy one of the finest basketball careers ever.  The ability to watch games that LeBron plays in is so much greater than it ever was for people who grew up in the Michael Jordan era.  You, in your home in Ireland or the UK, can sit down and watch entire games involving LeBron James live, or stream them whenever suits you.  You should enjoy it.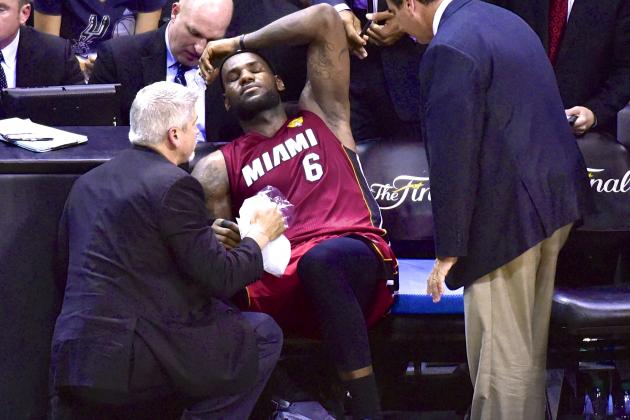 Anyway, back to the business of the game itself.  It was close, but probably a game the Heat should have won.  They had the opportunity to close the game out in the mid-4th quarter, but the Spurs 31-9 run, facilitated by LeBron's injury saw them off.  Danny Green, made to shoot off the dribble all game long and therefore ineffective, was allowed three consecutive catch-and-shoot threes which ignited the Spurs and the sweltering arena.  Kawhi Leonard, similarly inhibited by the Heat's defensive strategy, also hit from deep, before Tony Parker sealed it.  The Heat got next to nothing from Mario Chalmers and Norris Cole and wasted a vintage Ray Allen performance, although Allen also tired late and missed a couple of good looks from the perimeter.  The fact that the Spurs went 14-16 in the 4th tells its own story about the Heat's ability to withstand the, um, heat, but it should also be noted that the Spurs, often inaccurately considered to be the old men of the NBA, are actually younger than the Heat, if we ignored their respective "big threes".  Splitter is younger than Birdman; Green, Bellinelli, Diaw are all younger than Allen, Lewis and Battier.  Indeed, with the exception of Allen, its tough to make a case that any of the Heat reserves would get much burn if they played in black, silver and white.
I still have the Spurs taking this in 6, but I expect the Heat to come back significantly stronger in game 2 and might just edge it.  He'll pretend he isn't, but LeBron is absolutely taking in everything that everyone – television personality or insurance administrator – is saying and storing it away.  He ALWAYS does.
A TCC video diary is in production, so look for that later today.
---