Two years and $48.5 million.  Twenty three and a half million dollars next season; twenty five million dollars next season.  Not to mention thirty million dollars this season.  This is the amount of money that Kobe Bryant is being paid to play basketball between the ages of 35 and 37.
And it is crazy.  Maybe the dumbest move in recent sports-contract history.  Was it dumber than paying Gilbert Arenas ($111m/ 6 years in 2008) or Rashard Lewis ($118m / 6 years)?  Perhaps not, but neither Arenas or Lewis was 35 years old coming off a ruptured achilles tendon and on a storied franchise that seemed to be all set to make another run at the NBA title.
The NBA's salary cap for the 2013-2014 season is set at $58,697,000, or two 2013 Kobe Bryant's…give or take a million and a bit dollars.  The Lakers more or less clear the decks this off season – only Steve Nash and Robert Sacre were contracted beyond this season.  Everyone assumed that with Bryant's serious injury costing him a good portion of the season the Lakers would simply play the season out, let Kobe come back and gun his way towards the NBA's all-time scoring record and pick up a stud in the upcoming NBA draft.  Then they would have practically their entire salary cap free to dangle at the free agency market – and perhaps lure Kobe back for a run at his sixth title.
But not any more.
Some have had the audacity to claim that his new contract allowed the Lakers to sign another "max level" player.  Yeah, but you have to have another 10 players on the roster as well.  LeBron James could ask for $20m next season; Carmelo Anthony $22.5m (105% of their current contracts).  LeBron does bring you the possibility of contending.  Carmelo does not.  That possibility also hinges on getting "max level" performances out of a then-36 year old 18 year veteran with a dodgy achilles (admittedly alongside an incredible pain thresh-hold).
Any NBA expert worth his salt – Bill Simmons, Colin Cowherd, Chris Broussard's "sources" – has noted that no other team was going to pay Kobe any more than about $12 million.  Allowing for low-balling, was anyone going to pay $15 million to Kobe next season?  Maybe.  Was Kobe going to go to "anyone" to make an extra $3 million?  He's earning ten times that this season.  Who would this "anyone" be anyway?  Memphis?  Is Kobe really going to go to Memphis to play out his career for $15 million?  Not a chance.
Now, we shouldn't overlook the fact that Kobe was offered this deal.  He signed it, but it was offered to him.  This tells us that the Los Angeles Lakers are an organisation totally bereft of ideas.  Smart teams do not overpay for over-the-hill talent.  Just look at Major League Baseball – St Louis got better AFTER they let Albert Pujols go to the LA Angels.  The Angels got worse.  There is no space for sentiment in the business-like sports world.  The Lakers saw their current predicament and panicked.
The Clippers are better than them.  The Dodgers are more interesting – even Magic Johnson thinks so, he owns the team.  Steve Nash is falling apart.  Pau Gasol doesn't feel loved and is looking for his last big contract.  He's not going to get it in LA now.
Kobe has often commented that he doesn't want to be one of those players who fades out of the game into irrelevancy.  His likely solution is to score the ball, which requires more shots.  The current top 4 all-time scorers in NBA history: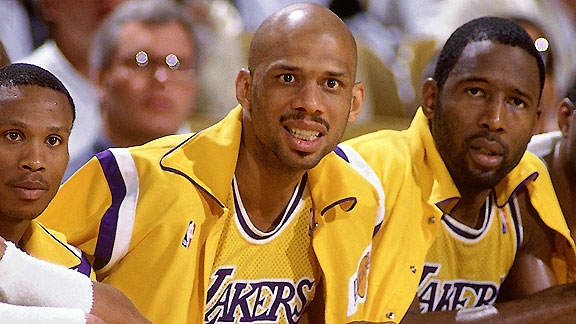 Kareem Abdul-Jabbar – 38,387
Karl Malone – 36,928
Michael Jordan – 32,292
Kobe Bryant – 31,617
So he's 600-ish points short of MJ.  He'll overtake Jordan this season, all being well.  The next 4,000 to overtake Malone might be trickier, but on a Lakers team with no other options, he should manage it.  Then it's just 1500 points to the holy grail of Kareem.
I hope he gets there.  It will be the only exciting thing that LA basketball fans will get to see between now and 2016.  Unless they start buying tickets for Clippers games…
---