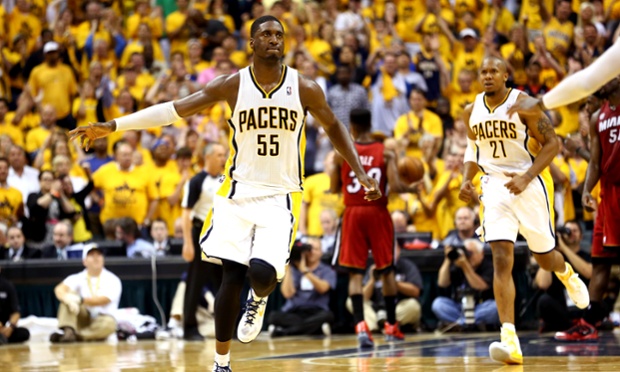 It's been no secret that the Indiana Pacers have been pretty bad this offseason.  Indeed, March and April were tough months for them, going 14-16 and nearly ceding the East's 1 seed to Miami until Miami seemed to ease off and accept the 2 seed – presumably because they felt that they could win their home games (in front of the ever loyal Miami crowd – that said, don't let the empty lower bowl seats confuse you, those seats are only affordable to those who don't really care) and take one in Indiana to give them a shot at a win in 7 over their 2013 Eastern finals foes.
The Pacers somehow pulled their best game out at the right time, beating Miami fairly handily 107-96 in game 1 of the 2014 Eastern Conference Finals.  Each of their starters scored in double digits with Roy Hibbert predictably dominant.  Not many people in the league enjoy playing Miami as much as Roy.  Indeed, Roy doesn't really enjoy playing many other teams – see his struggles in round 1 against Atlanta and even in spells in round 2 against Washington.
This win was crucial for the Pacers.  Had they suffered a blowout first loss, as they did against the decent-but-not-Miami Washington Wizards, one suspects the self-doubt that marked their performances this postseason would have returned.  Instead, they bullied Miami, forced their way to the free throw line and when they were there, hit 29-37.  Miami only shot 15, hitting 10.  When LeBron James only shoots 2 free throws, you know Miami hasn't been attacking and the reason they don't attack is because of Roy Hibbert.
The free throw discrepancy may be pointed to as evidence of referee bias (how ironic that would be given the perception across basketball is that the Heat tend to get the rub of the green on marginal calls) but the three point discrepancy – Miami's 26% to Indiana's 42% told the real story.
Miami looked tired.  They looked pretty tired at points in the Brooklyn series and, added to the fact that they are playing the one team that seems to enjoy playing against them as much as any other, this is a very tough match up for them.  They should be tired.  This is their fourth consecutive trip deep into the post season.  If they make the finals it will be their fourth consecutive finals.  Teams don't tend to do that these days.
Indiana were good value for their win in game 1, but expect Miami to come out in game 2 with a bit more fire.  In the Eastern conference finals last year it took a LeBron James triple double in overtime to sneak game 1 before Indiana won game 2.  The teams traded games through to game 7 when home court advantage finally told and Miami beat Indiana by 23.
Out west, the Oklahoma City Thunder will be deeply troubled by the loss of their third-best player Serge Ibaka.  The San Antonio Spurs were no easy match for them before, but now one has to wonder just how much Durant and Westbrook can give the team.  The dynamic pair are capable of winning games more or less on their own, but to beat this San Antonio side more than twice will be very tough.
My predictions: Miami in 6, San Antonio in 5 and San Antonio to beat the Heat in 6 in the finals.
---