Two days ago, in an article published in Sports Illustrated, Washington Wizards Center Jason Collins announced to the world that he is gay.
Collins later remarked about how overwhelmed he was with messages of support, notably from his team-mates John Wall and Emeka Okafor as well as Kobe Bryant and figures such as former President Bill Clinton
In an unusually well-written piece for ESPN, Rick Reilly told of Collins's former fiancee, who had her wedding to the Stanford grad called off a month ahead of the big day without any explanation.  Neither she, nor Collins's twin brother Jarron, knew of Jason's secret.
Then there was Chris Broussard.  Easily the worst "insider" on the ESPN staff, the man who has never tweeted an exclusive before it had been tweeted by at least four other people first, Broussard made these comments:
It is an odd world where Rob Parker can ask questions about Robert Griffin III's race and get fired while Broussard is actively supported for his own hateful message simply because he bundled it up in religion.  Simply by saying "I don't believe…" Broussard attempts to couch his bigotry in the sanctity of his own opinion, ignoring the fact that he is a commentator whose views reach millions of people.
Most significantly, Broussard's comments provide insight into what is perhaps the worst form of bigotry: that which is tied up with something completely legitimate and, particularly in the US, powerful, in the form of organised religion.  The debates over same-sex marriage have echoed across the US.  My own view is "who cares?"  Why people think the actions of other people (which are still going to go on even if you don't allow them to get "married", incidentally) in the privacy of their own home should impact upon their life in any way is something I will never understand.  Some people, however, really do care.  In their worst form, people seem to think that homosexuality is some sort of illness.  See this link, for example.
In addition to the legitimised bigotry of others based on their interpretation of Christianity, Collins will undoubtedly have to deal with the more predictable banter-hate spectrum from opposition players.
The highest profile basketball figure to come out to date is President and COO of the Golden State Warriors, Rick Welts.  He commented that:
This team, this organization, this city, the whole community has really embraced me. The reason I did it is because hopefully it will make it easier for somebody who has gone through it and experienced it will come out

Collins, never an outstanding player on any team but clearly a highly thought of member of any roster – his career average is 3.6PPG and 3.8RPG (last season 1.2 PPG and 1.6 RPG for Boston and 0.7 PPG and 1.3 RPG for Washington) – it seems likely that a team will take a chance on one final contract for him.  His announcement at this stage is clearly brave, but also puts teams on the spot: will they sign an openly gay player?  If nobody signs him is it because he is gay or because he simply isn't that good a player?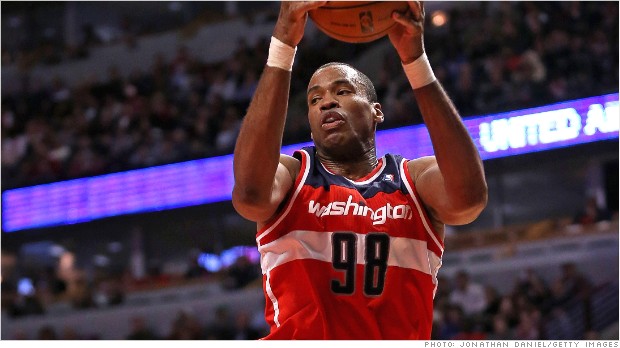 Equally, because Collins is not likely to be much more than a role player for any team that would sign him, the opportunities for abuse would seem to be minimal.  He wont be on court all that much and, particularly in an era when the volume of TV cameras makes it very likely that anyone abusing him on the bench would surely be "caught" and shamed, perhaps now is the perfect time.
Former Leeds United player Robbie Rodgers recently explained how he had to retire just to allow him to come out.  Rumours from his time at Leeds include his frequently being seen with black eyes and other signs of physical abuse.  Perhaps Collins can help others like him to announce who they really are to the world.
---