Atlanta Hawks
Coach: Larry Drew
Key Additions: Ummmm…does Devin Harris count? (Jazz)
Key Departures: Joe Johnson (Nets)
Star Player: Al Horford or Josh "if he doesn't shoot any threes" Smith
Player to Watch: Anyone entering a contract year…so just about everybody then
2011-2012 Record: 40-26, made playoffs, lost in first round to Boston (4-2)
TCC take: Danny Ferry arrived in Atlanta as the Hawks General Manager on 25th June, 2012.  In little over a week, he managed to get rid of the millstone around Atlanta's neck that was Joe Johnson's contract.  Johnson has had one of those weird "under-rated > over-rated > overpaid > under-rated" careers since Phoenix decided to screw Steve Nash and melt away the remainder of the last credible Phoenix Suns side, a process which began with their refusal to pay Joe in 2005.  Atlanta had no such hesitancy and immediately offered Johnson $70 million over five years, a contract usurped by a six year, cap crushing $119 million deal signed in July 2010.  Johnson was traded to the New Jersey…sorry Brooklyn Nets for Jordan Farmar, Anthony Morrow, DeShawn Stevenson, Jordan Williams, Johan Petro and a 2013 first rounder.  Also known as "nothing", or "pennies on the dollar".
Ferry then got rid of Marvin "they drafted me ahead of Deron Williams, Chris Paul, Andrew Bynum and Danny Granger" Williams in exchange for Devin Harris.  The important thing to note about all of these transactions is that just about everyone has become an expiring deal and is therefore a valuable trade piece.  It might, of course, mean that they are planning to write off the 2012-2013 season.  They promise to retain their "SportsCenter top 10" capacity with Josh Smith usually good value for a dunk or block, but given that their 2004 first rounder has yet to learn that he is a terrible three point shooter (2010-2011's 33% an aberration in a career average of 28% – which includes 0%, 0-7 in 2009-2010), it might not be unreasonable to argue that if your teams hopes hinge on him, you might be destined for disappointment and the lottery.
Prediction: Could they be worse than Charlotte, Washington and Orlando?  Probably not, but they surely cannot be the best losers in the Eastern Conference.
Charlotte Bobcats
Coach: Mike Dunlap
Key Additions: Ben Gordon, Ramon Sessions, Brendan Haywood, Michael Kidd-Gilchrist (Pistons, Lakers, Mavericks, Draft)
Key Departures: I suppose DJ Augustin (Pacers)
Star Player: Probably Kidd-Gilchrist, a guy who has only just turned 19.
Player to Watch: Again, the high-energy Kidd-Gilchrist. Although it will be fun/depressing to see Ben Gordon trying to recapture some of his Chicago Bulls-era magic.
2011-2012 Record: A dismal 7-59, easily their worst ever performance (their debut season 2004-2005 gave them an 18-64 record)
TCC take: Does anyone really care?
Michael Jordan doesn't care about this team and he owns them.  I'm not sure the Bobcats would win the Irish Superleague.
Okay, so they have a few players who are sort of interesting.  They signed "British when I fancy it" Ben Gordon and Ramon Sessions, along with Brendan Haywood, who still, remarkably, manages to convince NBA management that he is worth spending money on, even though Mark Cuban hated him so much that he actually paid him to leave the Dallas Mavericks.
Michael Kidd-Gilchrist joined the team through the draft.  He wasn't the Kentucky Wildcat that Bobcats fans, all nine of them, wanted, but the draft Gods dictated that they would get the second pick in a one-pick draft.  Okay, Kidd-Gilchrist will probably be perfectly serviceable as a professional, but then again he is at the Bobcats.
When the reasonably relevant Charlotte Hornets moved to New Orleans in 2002, the NBA promised Charlotte an expansion team.  Other cities have not been so fortunate.  They averaged just under 15,000 fans at each home game last season, amazingly a figure more impressive than Milwaukee, Sacramento, Detroit, Indiana (yes, the Pacers had the second-worst average attendance in the NBA last season, despite making the playoffs) and New Jersey.  That means there were about 4,000 empty seats at every Bobcats game last season, although we can reasonably assume that figure to be considerably higher for games not against one of the league's best teams.  There is also the season-ticket factor, where a seat is considered filled because the ticket was sold, even if the owner of said ticket wasn't actually there.  The basketball fans of Seattle will eye up these
sides, particularly Sacramento, and query why their city doesn't deserve an NBA team.  I'm not sure they'd want the Bobcats, though.
Charlotte basketball fans will hope that Kidd-Gilchrist can energise their team, but the fact that he is surrounded by a group of entirely mediocre play
ers (I'll exclude Kemba Walker) like DeSangana Diop and Byron Mullens, would suggest that another disappointing year awaits.
They do, however, have new uniforms which make them look a bit like the Memphis Grizzlies.
Prediction:
Miami Heat
Coach: Erik Spoelstra
Key Additions: Ray Allen, maybe Rashard Lewis, Josh Harrellson (Celtics, Wizards, Knicks)
Key Departures: Ummm… Ronny Turiaf and Eddy Curry? (Clippers, Ate Himself…maybe he joined the Spurs)
Star Player: LeBron James…duh!
Player to Watch: Ray Allen, why not?
2011-2012 Record: 46-20, NBA Champions
TCC take: Much like the current Spanish football side, who have taken to playing without a striker as they continue to dominate world football, the Miami Heat won last season's NBA title in a non-traditional manner; in their case it was without having a "proper" big man.  Chris Bosh, much more of a jump shooting 4 than an actual inside player, took on the role last season.  Interestingly, Bosh's reputation, which took a massive hit in games he played in, was boosted by his absence with an abdominal injury suffered against Indiana in the playoffs.  Without Bosh, the Heat were pushed to the brink of elimination…then LeBron James happened.  Of course, having LeBron allowed Bosh to play smaller on defence, because LeBron can basically guard anyone in the league.
James's reputation as one of the all-time greats was, rather ludicrously, in question until he won his first NBA title.  Like winning an NBA title is easy?  But let's not forget how Michael Jordan won lots of titles, because that's somehow relevant.  Luke Walton has more championship rings than his dad, you know.
The Heat have replaced the utterly pointless (but now leading member of the "he has a ring?" club) Eddy Curry and the slightly-less pointless Ronny Turiaf with Ray Allen and Rashard Lewis.  The greatest ever shooter the game has ever seen will come in, stand in his favourite spot in the corner and nail threes.  Kevin Garnett wasn't best pleased, telling anyone who would listen that he'd thrown away Allen's phone number.  Because ring chasing is only alright if KG himself does it? Anyone care to remind Garnett that he's practically middle-aged?
I did love the image that Garnett possibly still has a desk drawer full of scraps of paper with everyone's phone number written in pen.  Seriously, there is something very unlikeable about Garnett…his "cancer patient" comments to Charlie Villaneuva perhaps an insight into someone who comes across as a model pro but might actually be a bit of a dick.  Allen never comes across as anything but likeable and there seems no good reason for Garnett to have a go at him.  I don't suppose he'll care if it adds a second title to his resume.
Lewis, formerly the most hopelessly overpaid player in the league, will try to do likewise, but early reports suggest that he might end up down the depth chart, particularly if Mike Miller comes back reasonably healthy.  Miller was the real hero of game 5 of the finals, nailing a superhuman 7-8 long bombs, including at least two heat-check shots, and brings a sort of trailer-park quality to the superficiality of South Beach.  Of course, it's not totally accurate to refer to the Heat as being the team of South Beach, which is actually about five miles from the American Airlines Arena (which will surely have to be renamed with the imminent demise of that airline).
The Heat have also added former Kentucky big man Josh Harrellson, who will provide hustle and jump shooting when backing up Bosh.  He will also be able to provide some sturdy defence of opposition bigs in spells…so basically Roy Hibbert and perhaps Andrew Bynum.
Questions will be asked about the defensive capabilities of a guy like Allen, who saw his role on the Boston Celtics squad of last season diminished by the emergence of Avery Bradley, but it's not like Miller or James Jones were lock-down defenders and the Heat managed pretty well.  They have the LeBron factor which allows guys like Miller or Allen to defend an inferior opposition player (as weird as it is to consider any player who makes it to the NBA in any way "inferior") when they're on court.  The only players who might create problems for the Heat are the leading big men in the league.  Dwight Howard and his two post moves (clearly that time with Hakeen was well used) might be a problem, but only really if the Lakers face the Heat in the finals.  Andrew Bynum showing up in Philadelphia could pose problems for the Heat, but that depends on him (a) being bothered to play hard that day and (b) his team-mates giving him suitable support.  Roy Hibbert played well enough against the Heat in the playoffs but his stardom is more a sign of how weak the NBA is for bigs these days.  Tyson Chandler hasn't really been utilised offensively by the Knicks.  Because he plays with…well, you can work that one out for yourself.
The other "if" hanging over the Heat focuses on the various joints belonging to Dwyane Wade, who sat out the summer olympics to have a procedure on his left knee.  Wade's high-impact style of play will undoubtedly wear him down, particularly now that he's in his thirties, but the addition of Allen should allow him to ease back into the side.  Let's not forget this guy is listed at 6-feet-4 (meaning he's probably at least an inch shorter) and still dunks off two feet with ease.  If Wade can stay healthy for another couple of seasons, which seems reasonable-ish, the Heat could come good on their "not one, not two…" promise.  Even if that was nonsense.
Prediction: They should be the best team in the East.  Then it's just a question of how well the LA Lakers gel/avoid injury.  Miami will beat Oklahoma should a finals rematch occur.
Orlando Magic
Coach: Jacque Vaughn
Key Additions: Arron Afflalo and Al Harrington (Denver)
Key Departures: One would assume that the loss of Dwight Howard might be tough to overcome (Lakers)
Star Player: The ever-improving Afflalo should at least give Magic fans the chance to buy a replica shirt they can feel good (read: not terrible) about at the end of the season.
Player to Watch: Dwight Howard, sadly
2011-2012 Record: 37-29, made playoffs, lost in the first round to Indiana  (4-1)
TCC take: Oh dear.
The Orlando Magic were not all that good last season.  Their 37-29 record meant they finished sixth in the Eastern Conference and were good enough to win precisely one more game against an Indiana Pacers side which looked legit against the Miami Heat, right up until the point where Lebron James finally "got it."  Ryan Anderson was pretty good; good enough for the NBA's Most Improved Player award with 16.1 PPG and 7.7 RPG.  He also hit 88% of his free throws and just under 40% of his three point attempts.  Anderson is gone, lost in a sign-and-trade to the New Orleans Hornets.
Of course, the big news in Orlando this summer was the so-awful-it-should-be-made-illegal trade it eventually made for franchise star Dwight Howard.  To replace one of the few irreplaceable players in the NBA, the Magic got Arron Afflalo, Al Harrington, Nikola Vucevic, Maurice Harkless, Josh McRoberts and Christian Eyenga and a handful of draft picks.  So, a bunch of no-marks and a couple of decent back-ups.  Did anyone tell wunderkind GM Rob Hennigan that the players they could have got in free agency next summer, had they just made Dwight play another season, wouldn't have been that much worse?
It must be great to be an Orlando fan.  You have drafted two of the best big men of the last three decades and lost them both to Los Angeles.  Hardly seems worth it, does it?
Of course, anyone who's been to Orlando will know that there's only so much time you can spend in a theme park, especially if you're over seven feet tall.  There's a reason Orlando is not considered one of the "destination" cities of the United States.  It's because people don't necessarily want to be there for more than a couple of weeks.  Or more than once every three year
Prediction: Lottery.  Whether or not they end up with the worst record in the league might depend on their division rivals.
Washington Wizards
Coach: Randy Wittman
Key Additions: None/Bradley Beal (draft)
Key Departures: None
Star Player: John Wall
Player to Watch: John Wall
2011-2012 Record: 20-46
TCC take: The two interesting things the Washington Wizards have done over the past year are getting rid of Gilbert Arenas and getting rid of Rashard Lewis.  The latter departure brought in Emeka Okafor, the perfectly serviceable but cursed by the fact that he won the 2004-2005 Rookie of the Year award over Dwight Howard centre, who gives the Wizards a decent frontline alongside Nene.  Unfortunately, a solid frontline is the only thing this side of John Wall that makes the Wizards interesting.  They may have been 13 games clear of the Charlotte Bobcats last season, but still ended up as the second-worst team in the league.
There seems little reason to expect great things from them this season, but they should certainly be better.  The disruptive Arenas era is long over and professionals like Nene and Okafor should help John Wall no end.  Bradley Beal has promise but is of course unproven at this level.  He could be the next Stephen Curry or, less likely, the next Jimmer.  Given they are in the East, there's a decent chance that Washington could see playoff basketball (just as it saw playoff baseball this season), but given that they will likely have to contend for the "best loser" place, they will have to obtain a better record than one of Indiana, New York, Boston (?), Brooklyn or Philadelphia.  Doesn't seem all that likely, really.
They do have cool uniforms, though.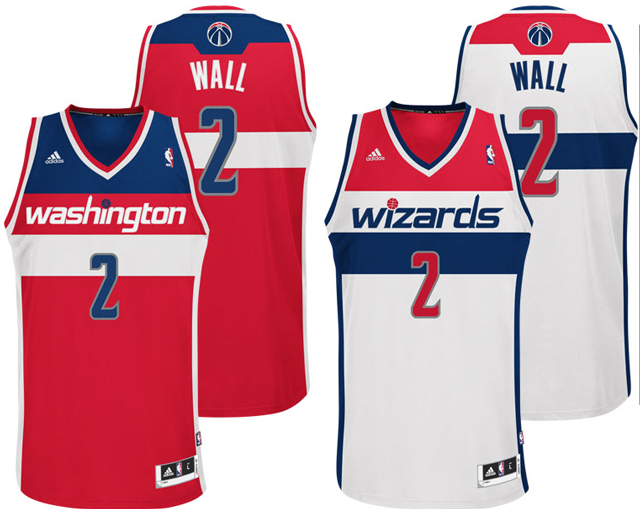 Prediction: Mediocrity, but a slightly more content mediocrity than before.
---