The NBA draft awaits us this Thursday with seemingly one of the deepest drafts in recent memory awaiting us.
The Minnesota Timberwolves seem likely to select Kentucky's Karl-Anthony Towns with the first overall.  The Wolves have apparently made former 1st overall pick Anthony Bennett available for trade. The other candidate for 1st overall is Duke big man Jahlil Okafor, with other big names including Latvian seven-footer Kristaps Prozingis, Ohio State's rangy point guard D'Angelo Russell and Barcelona's Croatian swingman Mario Hezonja.
Rather than regurgitate the draft analysis you can get elsewhere, we wanted to ask you, the TCC readers, who it was that you wanted (or expected) your team to select with their draft pick.  Especially if you're a Nets fan, because after this year, you need to wait until 2052 when your team next has a draft pick.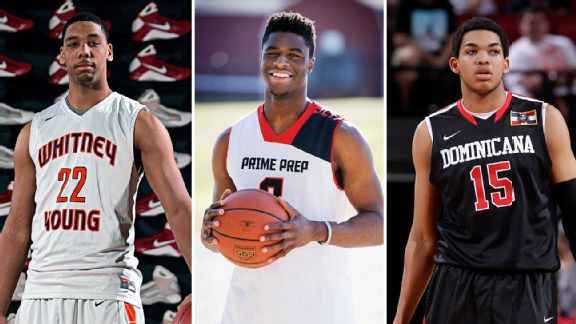 For me, my Houston Rockets are picking at 18, which is the New Orleans Pelicans pick and was part of the trade for Omer Asik which went down as the Rockets made room for Chris Bosh, as well as at 32.  In his most recent mock draft, Chad Ford has the Rockets taking Duke point guard Tyus Jones at 18 and Spanish big Guillermo Hernangomez at 32.  Bleacher Report's Jonathan Wasserman agrees on Jones, DraftExpress's Jonathan Givony agrees on both picks, meanwhile the CBS Sports crew are split over Jones and Jerian Grant, the Notre Dame point guard.
A point guard is an obvious need for the Rockets.  Patrick Beverley, with his high intensity defense but limited offense, is out of contract and may have earned a bigger pay-day than the Rockets are going to be willing to send his way.  Jason Terry, though still impressive at times, is inching closer to 40 and is a defensive liability, much like Pablo Prigioni.
If both are available, it seems unlikely that the Rockets will go in another direction.  Grant had some "academic eligibility issues" in his redshirt junior season, but was basically a star as the Irish made it into the Elite Eight.  Grant is also a pass-first point guard with the height to see over NBA defenses, which will help the Rockets who already have James Harden who, to put it mildly, requires the ball, the issue of whether or not he can both give up the ball to Harden AND play off him remains. Jones, though listed at 6'2″ measured at nearly 2 inches smaller, without shoes, at the combine.  He was decisive in Duke's run to the national title with a series of clutch plays and showed an ability to play off the ball, which will be a strength in the Harden-dominated Rockets offense.
The Rockets badly need a third scoring option and the question over whether or not Grant, who struggled to score in the paint against stronger opposition, can become that option.  Jones certainly seems to have more potential there, although Grant may have the edge defensively given his size.  Then again, Jones is younger and is a proven winner.
I suspect the Rockets will go with Jones, who will have the luxury of being able to develop whilst playing off Harden for some time.
So, TCC readers, who do you think your team will draft?
---