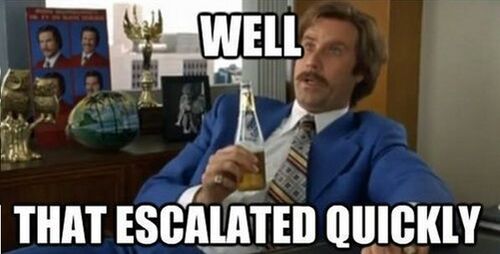 San Antonio shot 58% from the field to run out comfortable 122-105 winners over an Oklahoma City Thunder team that was deprived of Serge Ibaka for "the remainder of the playoffs" with a calf strain.  Now, we all know that guys in the NBA are capable of making quick recoveries – remember Paul Pierce's wheelchair game? – and the Spurs remain cynical that Ibaka is actually done for the year, but his absence was sorely noted by Thunder fans who saw Kevin Durant collect 28 points on 10-19 shooting (4-7 from three), Russell Westbrook contribute 25 and the rest of the starters?  5 points.  All from Kendrick Perkins.  Reggie Jackson and Derek Fisher also played well for Oklahoma but could not overcome another stellar Tim Duncan night (27 points), 18 points from Ginobili and a 14 point, 12 assist double-double from Tony Parker.
One can't help feeling that Durant and Westbrook are good enough to win at least one game on their own, but they really need either multiple contributions from their team-mates, or else for one team-mate to step up and contribute 20+ points.  Fisher came closest to that last night but at 39, he cannot be relied upon night after night.
The efficiency with which the Spurs have played since they saw off Dallas in round 1 has been striking.  A team hitting form at just the right time, coming up against a talented but depleted opponent spells trouble for the NBA – particularly when a slug-fest appears to be developing in the Eastern conference between Indiana and Miami.
---