The Thunder missed the playoffs.  Not by much, but still missed out for the first time since their first season in Oklahoma.  The Thunder ownership, headed by Clay Bennett, is reportedly considering replacing former Coach of the Year Scott Brooks.  SportsNet New York reported that University of Connecticut head coach Kevin Ollie, who played for the Thunder back in 2009-2010, could replace Brooks.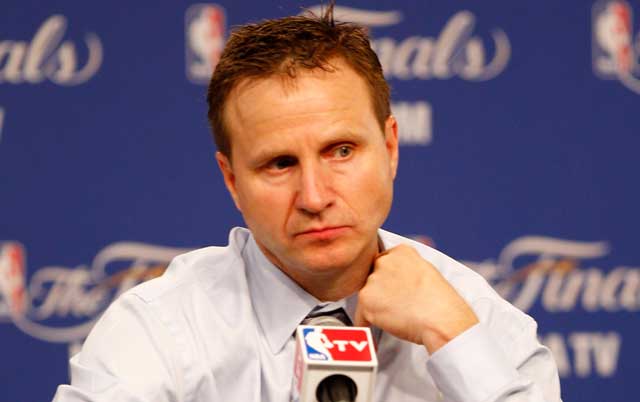 Should Brooks depart, it could mark the beginning of the end for the Thunder's run at the top of the NBA.  Commentators and opinionators have long emphasized the struggles that small market towns have when it comes to retaining professional sports, with the ever present exception to the rule, the San Antonio Spurs.  That said, the Spurs will also have to restructure their team in the very near future, but the Spurs have never relied on big-name free agent acquisitions; rather their success is the product of a particular system and the near-perfect fit of those players acquired to that system.
For the Thunder, things are a little less assured going into the final season that they are guaranteed to have their stars on roster.
Kevin Durant is an unrestricted free agent in 2016.  Russell Westbrook is an unrestricted free agent in 2017.  Serge Ibaka is an unrestricted free agent in 2017.  Kyle Singler is an unrestricted free agent now.  Ok, only three of those are real problems.
Durant's foot injury is problematic.  He looks light, but is listed at 240lbs, although I've always thought his 6'9″ listing is a little modest (Durant is taller than Dwight Howard, listed at 6″11″).  He's also clearly taller than 6'10" Serge Ibaka: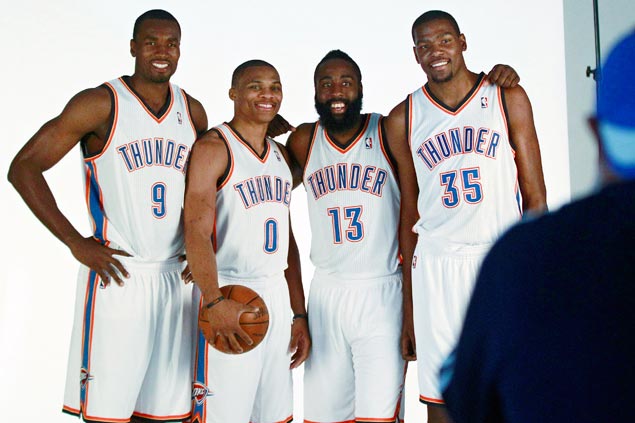 Anyway.  The injury Durant suffered in October is known as a Jones stress fracture.  Stress fractures are a problem for athletes, particularly when they occur in a part of the body that undergoes a lot of stress, like the feet.  He had a screw placed in his foot, but then exacerbated the injury in a game against Dallas on 19 February and was ruled out for the season a month later.  Yao Ming suffered a similar injury in 2006 and never played a full season again, although Yao was physically a different beast from Durant.
Whether or not Durant recovers fully, and obviously everyone hopes he does, the question of whether or not the Thunder can persuade him to sign a contract that will take him into his 30s (Durant is currently 26 years old).  Can they offer him another shot at a title?  A lot will depend on their ability to also persuade Russell Westbrook to stay, but they face the exact same challenge with Westbrook (two months younger than Durant).  James Harden, the third members of OKC's much vaunted "big three", is long gone and contending for MVP awards in Houston, although not necessarily contending for titles.  Reggie Jackson, the dynamic backup for Westbrook is also gone.
Are Dion Waiters and DJ Augustin the replacements that Westbrook and Durant sought to help them continue to contend?
The 2014-2015 season saw the Thunder ravaged by injuries.  That might not be the last ravaging that they experience.
---